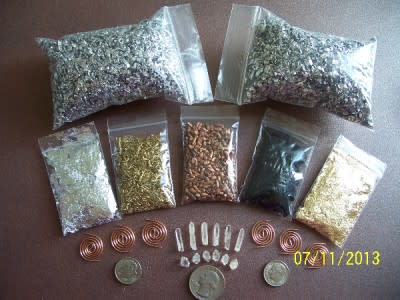 ORGONITE is an extraordinary holistic design developed by the Austrian-born scientist Dr Wilhelm Reich (1897– 1957) in the late 1930's at his laboratory Orgonon in Rangeley, USA.   http://www.bibliotecapleyades.net/esp_autor_reich_a.htm. 3 basic inncredients must be added to make Orgonite:
Metal particles
Quartz and an organic medium to suspend them in, usually
Resin
Orgonite comes in different forms such as pyramids, orbs, or basic cup cake shapes. It is perfect for the garden to improve plant & vegetable growth! A quartz crystal is added because of its piezoelectric properties,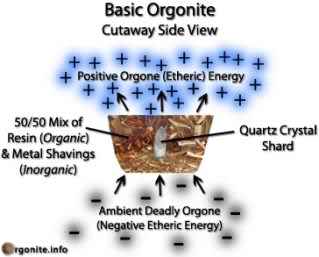 which means it gives off a charge when it is put under pressure (resin shrinks when it is cured, so constant pressure is put on the quartz crystal). Due to the fact that the elements contained in Orgonite are constantly attracting and repelling energy, a "scrubbing" action takes place, and along with the charge that the crystal gives off, this cleans stagnant and negative energy, and brings it back to a healthy, vibrant state. The result allows for permanent transmutation of stagnant negative energy into positive, flowing energy.
I sell my Orgonites via Etsy> https://www.etsy.com/uk/shop/SolidAirSculpture
Small muffin case Orgonites (4 x 7cm) pack of 4 – £ 35
.
Reference for article: Mark Bennett – http://www.checktheevidence.com/pdf/Orgone%20and%20Orgonite%20-%20Dossier.pdf

The crystals I use in my Orgonite sculptures:
Lapis Lazuli, Amazonite, Sodalite, Onyx, Green Fluorite, Amazonite, Red Jade, Hematoid Quartz, Agates, Amethysts, Aventurine, Bloodstone, Carnelian, Chalcedony, Chrysocolla, Serpentine, Red Jasper, Obsidian, Petrified Wood, Terminated Clear Quartz, Kalahari Desert Stone, Tiger Eye, Unakite, Zebra Marble and others… To learn about their meaning and potential visit: https://solidair-sculpture.com/crystals
Other ingredients are:
Gold flakes
Silver leaf
Pearls
Copper
Carbon
Sea shells
Rose petals
Oil & acrylic paint
Glass
Diamond Dust
Brass
Aluminium
mirror pieces
Jewellery, etc….
I sell these via Etsy> https://www.etsy.com/uk/shop/SolidAirSculpture

The artist is also available for garden sculpture commissions (see the resin-cast FISH TANK example below), or customized, large scale pyramids and orbs. Please get in touch via email at: annielbanx@gmail.com to discuss your ideas.