Koi Fish – especially when teamed up as a pair, signify long-lasting, joyful relationships, love and success. They stand for good fortune and happiness in many Eastern traditions. According to Feng Shui, aquariums, or sculptures of goldfish are a potent cure to attract the energy of wealth and abundance. Placed correctly an aquarium/ or fish sculpture will amplify the energy in any home or office and attract more wealth Chi.
The fish pictured above are available on Etsy!https://www.etsy.com/uk/shop/SolidAirSculpture
~
Koi carp are also represented in interior and bathroom design and live fish used in landscape design, as they incorporate a powerful energetic life force. They are a perfect metaphor for the transmutation of stagnant negative energy into positive, flowing energy.
.
Below: Fish sculptures at Gallery Jessica Dove, Ilfracombe, North Devon. http://www.galleryjessicadove.com  – £ 95
~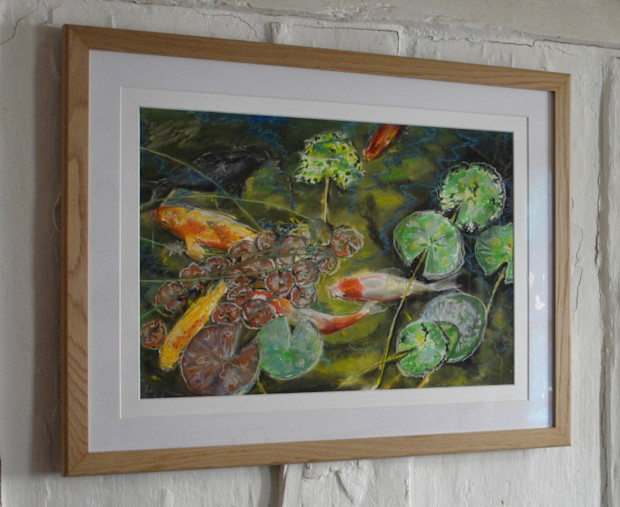 In interior decoration, a soft warm colour based on yellow, or orange is used where activity is to take place and works very well in dinning rooms, lounges, studies and offices, since this colour stimulates conversation, digestion and a harmonious family atmosphere. Make sure to never place an aquarium in your bedroom, as this brings unwanted feng shui energies to this area.
~
(see the chart below for placement inspiration)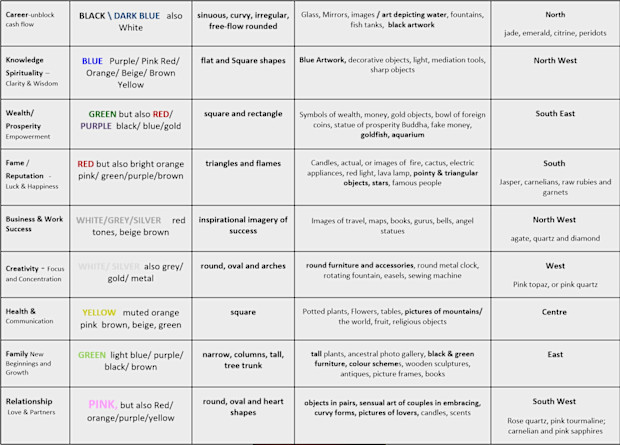 Aquariums
The best place for your individual fish sculptures, or 3-D aquarium is in the SOUTH-EAST area (the Wealth and Abundance area). This area is governed mainly by the colour green, but also by red, purple, black, blue and gold. Followed by the NORTH and NORTH-WEST area (Career), or EASTern area (Health and Family.)
If you place images of goldfish in these areas, it will most likely enhance the abundance and prosperity in your life. Aquariums, are auspicious because they bring a harmonious combination of several wealth attracting feng shui factors, as well as a perfect balance of all 5 elements:
Water (resin)
Wood (plants, flowers)
Metal (parts integrated in sea bed)
Fire  (the bright colours of the fish)
Earth (small crystal rocks, sand & gravel)
…final stages of completion of a 3-D fish tank. This artwork has now sold.